At StartKleen Solutions, we believe our products are the industry standard for the newest generation of cleaning detergents, sanitizers, and equipment. If you're looking for effective products backed by passionate industry expertise, we have the Solution for you.
Newest Generation Detergents and Sanitizers
Industry Expert Service Technicians.
In-depth and on-site sanitation training tailored to your facility.
Assistance in creating a HAACP compliant sanitation program.
Expertise in mixing, dispensing, and application equipment.
Container Recycling
From our plant sanitation teams to our product service technicians, we support our customers with the highest levels of competency in the field of sanitation.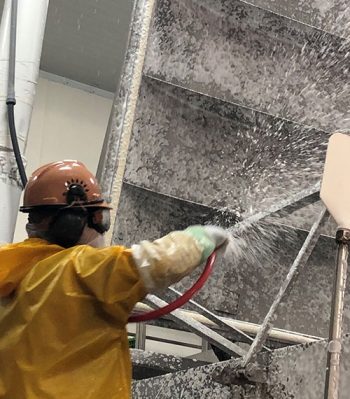 Search Solutions
| NAME | DESCRIPTION | PACKAGE | DETAILS |
| --- | --- | --- | --- |
| | | | |
| --- | --- | --- | --- |
| SK-100 | General Purpose Cleaner | 1g/5g/55g/275g | SDS |
| SK-101 | Quat Drain Ring | 24/cs | SDS |
| SK-103 | Powder Floor Treat w/ Quat | 300lb Drum | SDS and Label |
| SK-104 | Powder Floor Treat w/ Quat | 300lb Drum | SDS and Label |
| SK-120 | Mild Alkaline Powder | 400lb Drum | SDS and Label |
| SK-125 | Hand Scrub w/ Quat | 5g/55g/275g Drum | SDS and Label |
| SK-140 | Entryway Quat Foam | 5g/55g/275g Drum | SDS and Label |
| SK-144 | Quat Sanitizer | 5g/55g/275g Drum | SDS and Label |
| SK-150 | Cleaner Degreaser | 5g/55g/275g Drum | SDS and Label |
| SK-172 | Solvent Cleaner | 5g/55g/275g Drum | SDS and Label |
| SK-222 | Alkaline Foam Cleaner | 5g/55g/275g Drum | SDS and Label |
| SK-224 | High Alkaline Foam Cleaner | 5g/55g/275g Drum | SDS and Label |
| SK-225 | Alkaline Foam Cleaner | 5g/55g/275g Drum | SDS and Label |
| SK-240 | Liquid Caustic (50%NaOH) | 5g/55g/275g Drum | SDS and Label |
| SK-241 | Liquid Alkaline Cleaner | 55g Drum | SDS and Label |
| SK-242 | Alkaline Foam Cleaner | 5g/55g/275g Drum | SDS and Label |
| SK-245 | High Alkaline Foam Cleaner | 5g/55g/275g Drum | SDS and Label |
| SK-250 | Chlorinated Alkaline Foam Cleaner | 5g/55g/275g Drum | SDS and Label |
| SK-258 | Alkaline CIP | 5g/55g/275g Drum | SDS and Label |
| SK-259 | Chlorinated Alkali CIP | 5g/55g/275g Drum | SDS and Label |
| SK-263 | Powder Alkaline Cleaner | 400lb Drum | SDS and Label |
| SK-350 | Liquid Acid CIP Cleaner | 5g/55g/275g Drum | SDS and Label |
| SK-357 | Acid Cleaner | 5g/55g/275g Drum | SDS and Label |
| SK-388 | Organic Acid Foaming Cleaner | 5g/55g/275g Drum | SDS and Label |
| SK-802 | High Alkaline Tripe Wash | 5g/55g/275g Drum | SDS and Label |
| SK-831 | Lubricant | 5g/55g/275g Drum | SDS and Label |
| SK-880 | Green Denaturant | 5g/55g/275g Drum | SDS and Label |
| SK-881 | Charcoal Denaturant | 5g/55g/275g Drum | SDS and Label |
| SK-899 | Oxidizing Cleaner | 5g/55g/275g Drum | SDS and Label |
| Perasan A | Peracetic Sanitizer | 5g/55g/275g Drum | SDS and Label |
| 12.5% Sodium Hypochlorite | Bleach | 5g/55g/275g Drum | SDS and Label |
| SFT | Security Floor Treatment | 400lb Drum | SDS |